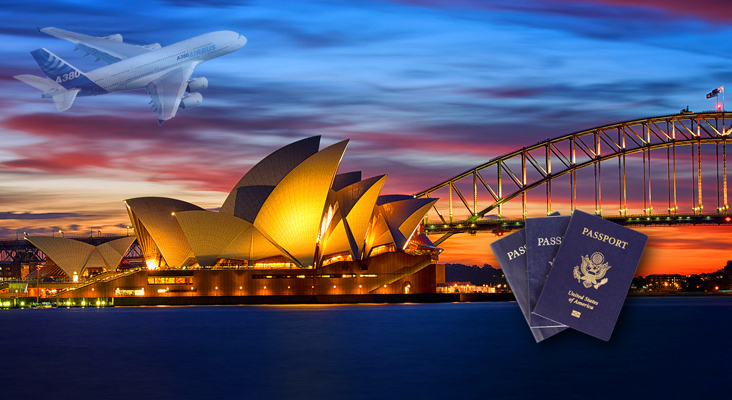 Australia Visa for Indians
Australia is one of the beautiful countries in the world with rich culture, customs, and great people. Moderate population and plenty of natural resources are the real blessings. It is a superb destination to go and explore many amazing things and live your life to the fullest extent.
The highly skilled and semi-skilled workers first choice is Australia. This is the most preferred destination to live and work with the host of benefits in favor of employees. Superannuation industry is very strong to take care of post-retirement needs of the people.
As like in any other country, you need a VISA to live and work in Australia either on a temporary or permanent basis. Australia visa for Indians allows you to stay and work in Australia.
All Information about Australian Visa for Indian
Tourist/Visitor Visa

Passport valid at least 6 month
1 visa form (48r)
1 Visa form (956)
1 visa form ( 54)
2 photographs with white background 35x45mm
Covering letter for stating purpose of visit
Bank statements last six months
Income Tax returns last three years
Hotel confirmation

If Visit for Honeymoon: Marriage card from husband and wife and engagement or marriage photographs
If Self Employed: Company bank statements and Tax returns also
If Visiting Relatives: Invitation letter from Australia, invitee passport and visa copy, Certificate of registration if the permanent residence, banks statements, Tax returns.

Business Visa

Passport valid at least six months
1 visa form (456)
1 Visa form (956)
1 Visa form (54)
Covering letter for stating purpose of visit on the business letterhead
Invitation letter from Australia
Bank statements last six months
Tax returns last three months

If Employed: Letter from employer, Salary slip last 3 months.

Transit Visa

1 visa from (876)
Confirm ticket details and onward visa
Other documents same as tourist

Processing Time

Tourist: Minimum 7 working days
Business: Minimum 7 working days

Visa Fee
Tourist Visa Fees :
Visa Fee – Rs. 4700.00 + Rs. 55 D D Charges
VFS Charges – Rs. 455.00Business:
Visa Fee – Rs. 4700.00 + Rs. 55 D D Charges
VFS Charges – Rs. 455.00Transit:
Visa Fee -NIL
VFS Charges – Rs. 455.00HANDLING CHARGES: Rs. 500/-
Service Charge + Service Tax @ 12.36 % EXTRA
If you are interested in Australian visa, then you need to know that there are different types of Australian work visa for Indian. These are mentioned below:
Types of Australian Work Visa for Indian
Below is the list of Australia Visa for Indians which allows the skilled worker to stay up to 4 years and pathway to permanent residence.
Temporary Work (Short Stay Activity) Visa (Subclass 400)
Temporary Work (Skilled Visa (Subclass 457) )
Temporary Graduate Visa (Subclass 485)
Skilled Independent Visa (Sunclass 189)
Skilled Nominated Visa (Subclass 190)
Employer Nomination Scheme (Subclass 186)
Skilled Regional (Provisional) Visa (Subclass 489)
Temporary Work (International Relations) Visa (Subclass 403)
Regional Sponsored Migration Scheme Visa (Subclass 187)
Skilled-Recognised Graduate Visa (Subclass 476)
Temporary Activity Visa (Subclass 408)
So, these were all types of Australian work visa for Indian which differ in documentation and process.

Australian Visa for Indian – Processing Time
According to the latest reports, 75 percent of the applications are processed in less than 4 months if the documentation is correct. At MK Travel Services, visas are processed at the minimum time as we are authorized Australia visa agents.
Australian Visa for Indian – Documents Required
Passport (Minimum of 6 months validity)
2-3 recent photographs
Job Offer Letter
Proof of dependents if applicable
Health and Travel Insurance
Good Conduct Documentation
Personal Character Assessment
Resume and Qualification
IELTS
Medical Certificate
Well, the documents required differ with the different types of Australian Visa for Indian. For that, we can assist you further:
011-28756991
MK Travels is authorized for Australia Visa for Indians
MK Travel is India's is one of the prime travel company which has been assisting many aspirants in Visa procedure, Travel bookings, Holiday Package and Currency Exchange for over 25 years and we have satisfied clients returning to travel with us again and again to all parts of the world. We also have a subsidiary company which is MK Forex Pvt LTD to take care of your FOREX needs.
We offer Professional immigration advice for many other counties including USA, UK, UAE, Canada, Singapore, New Zealand. We have experienced and experts teams to assist you closely in your journey to migrate to your favorite destination. Our internal customer referrals are one of the strongest in the market which shows higher customer satisfaction and happy customers. Join our family; we try our best to make your dreams come true. If you are looking for the Australian Work Visa for Indians, surely touch base with us. We help in easy Australian Visa for Indian Students and citizens. Kindly get in touch if you wish to inquire something about visa for Australia or any other country.
Click here to know about Australian Visa Form and Fees.
For Visa consultancy or to apply for Australia Visa for Indians
Contact: 011-28756991