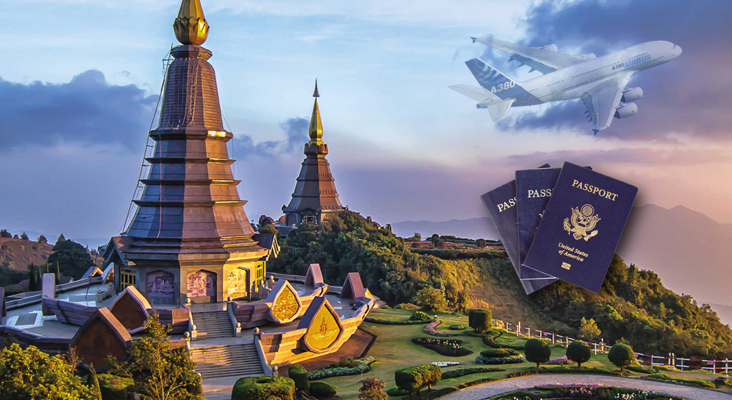 Thailand Visa for Indians
When you hear about Thailand, what comes to your mind? Is it Thai food or a beautiful place to settle life? Or a place of adventures? or may be everything, right? Yes, Thailand is one of the best tourist places in the world abundant with natural resources and excellent work, career and business opportunities.
Like other countries, entry requires you to have the Thailand Visa for Indians.
Types of visa for Thailand from India
There are various types of visas for Indians who wish to visit Thailand. They are listed below with their respective salient features:
Thailand Tourist visa for Indian (TR)
Only for tourism purpose and not for business or employment purpose
Duration of stay for 30/60 days
Extension of stay allowed for 30 more days
Education visa (Non-immigrant ED visa)
Only for study visits or training sessions
Duration of stay 90 days for single entry and then 1 year for multiple entries
Business visa (Non-immigrant B visa)
For conducting business or employment by Thai company
Duration of stay 90 days for single entry and then 1 year for multiple entries
Retirement (Non-immigrant O or OA visa)
Must have attained at least 50 years of age
Pension of 65000 THB or 800,000 THB in Thai bank (or combination)
Duration of stay 90 days for single entry and then 1 year for multiple entries
Marriage (Non-immigrant O visa)
Married to Thai national
Income of 40,000 THB or 400,000 THB in Thai bank (or combination)
Duration of stay 90 days for single entry and then 1 year for multiple entries
Dependent/Guardian (O)
Dependent or immediate family of foreigners holding non-immigrant visas
Guardian or immediate family of Thai child or student foreign child
Duration of stay 90 days for single entry and then 1 year for multiple entries
Process of Thailand visa for Indians
Please note that application procedures and fees are subject to change any time and may vary depending upon your location. MK Travels are authorized agents and considered as experts in this field due to their several years of rich experience and large specialized team of varied professionals. You may freely and confidently rely on us to provide accurate and up to date information and services. We are proud to boast of being the only authorized travel agency to have an excellent track record of getting 100% visas approved who have availed our services.
Things to remember
Indians are allowed visa on arrival for Thailand if the below mentioned requirements are met:
The visit is only for tourism purpose
One should have a verifiable valid address in Thailand whether of a hotel or apartment so one should make a hotel booking prior to departure
One's passport should be valid for at least 30 days and genuine. Confirmed return ticket of flying out of Thailand within 15 days from entry. Open tickets and you must have a confirmed return ticket to show that they are flying out of Thailand within 15 days of entry, as appropriate. Open tickets and travelling overland out of Thailand by bus, train etc. to Cambodia, Laos, Malaysia (including enroute to Singapore), Myanmar, etc. is not accepted as proof of exiting Thailand.
Flight ticket can be asked on entering Thailand• One should be able to prove that he has funds of at least 10,000 THB per person or 20,000 per family during the stay
Fees of 2,000 THB is payable in cash in Thai currency only upon entry which is subject to change without notice.
As the visa on arrival process takes approximately 3-6 hours of waiting time at the airport, it is recommended to get the Thailand visa from India before the travel to avoid last minute hassles.
Those Indians who are not eligible to enter Thailand under the "Visa on Arrival" or "Visa exemption Rule" need to obtain their visa from the Royal Thai Embassy prior to their visit.
Take our help
To avail our privileged services and know the exceptional rules to cater to your needs leave your details on our website and our agent will contact you soon to understand your requirements and guide you accordingly. We have been entrusted by so many people and have created a niche for ourselves due to the best customer services. This could become possible due to our vast and deep knowledge of the exceptional country/visa rules. We have a compassionate team of proactive thinkers who guide the customers and arrange all the things in advance. There can be numerous unforeseen challenges while in a foreign country where no one would be able to assist you except MK Travels. Few such situations may be like you are not able to return on last day of your journey due to ill health, lost your passport, visa got wet in sea water and hence unreadable, penalties for overstay etc.
Click here to know about Thailand Visa Form and Fees.
Need Visa for Thailand from India ?
Call us: 011-28756991